Kauai Regional ITS Architecture
| | |
| --- | --- |
| | Service Packages For: County of Kauai - Department of Public Works - MC12-1 |

MC12-1


Scroll down to view list of elements, responsible agencies (stakeholders), candidate functional areas and requirements, and flows on this diagram.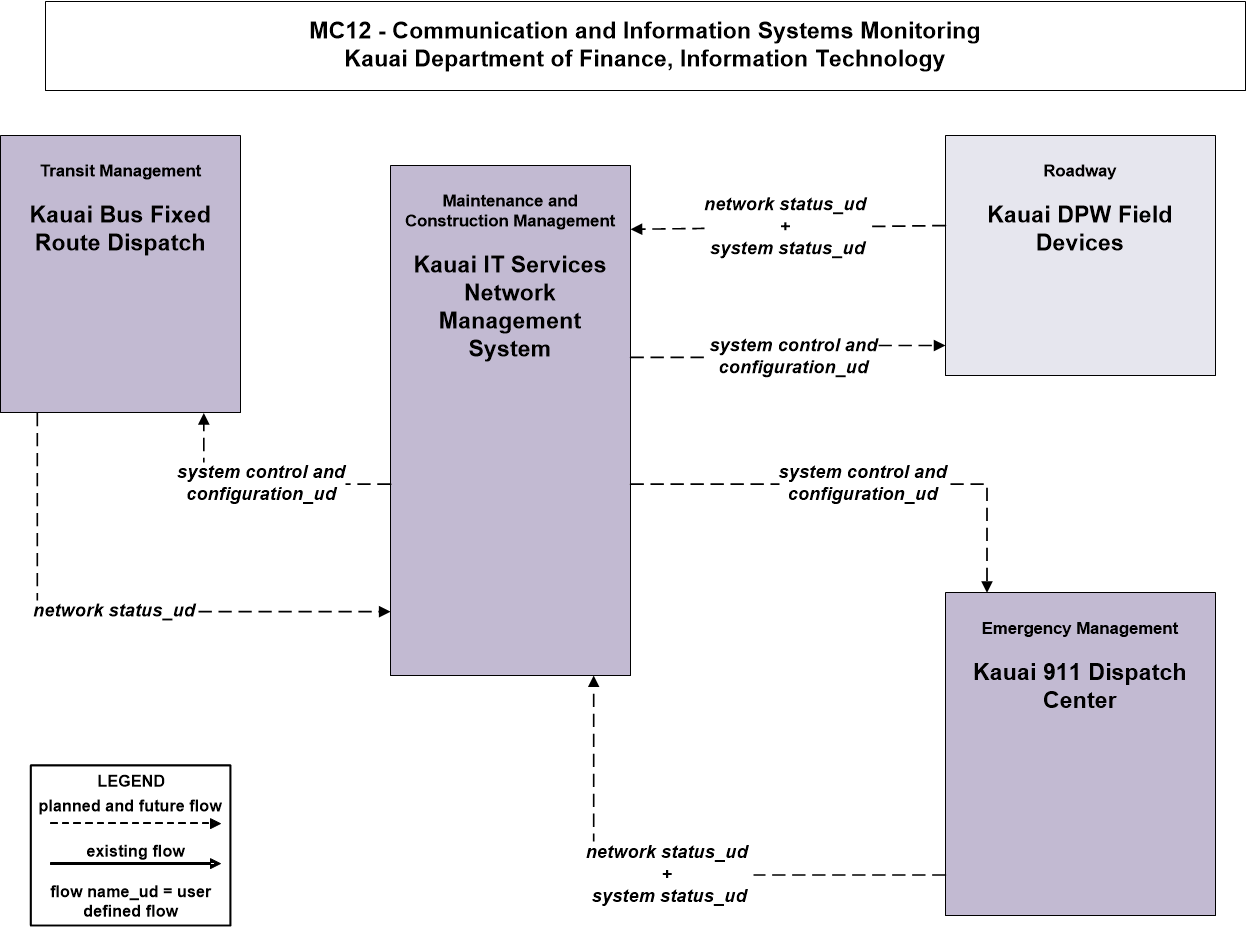 List of Elements on this Diagram
Click on Element Name to go to Element Detail Page.
List of Stakeholder Elements and Roles on this Diagram
Click on Element Name to go to Page with Element Details.
Click on Functional Area/Role to go to Page with Candidate Functional Requirements.
| Stakeholder | Element Name | Functional Area/Role | Functional Area Description |
| --- | --- | --- | --- |
| County of Kauai - Department of Finance, Information Technology | Kauai IT Services Network Management System | MCM Infrastructure Monitoring | This equipment package monitors the condition of pavement, bridges, tunnels, associated hardware, and other transportation-related infrastructure (e.g., culverts). This center equipment package monitors the infrastructure using both fixed and vehicle-based sensors. In addition to specialized infrastructure monitoring sensors, this equipment package also monitors the broader population of vehicle probes for vertical acceleration data and other probe data that may be used to determine current pavement condition. |
List of Flows on this Diagram
Click on Architecture Flow to go to Page with Applicable ITS Standards.
The Hawaiian language uses two diacritical markings. The 'okina is a glottal stop; and the kahako is a macron. The State of Hawaii strongly encourages the use of Hawaiian diacritical markings. The National ITS Architecture tool, Turbo Architecture, does not allow for the Hawaiian diacritical markings to be input and as such, customized service package diagrams, operational concepts and other outputs from Turbo are unable to reflect the diacritical markings. To ensure consistency in this ITS Architecture website, no Hawaiian diacritical markings will be used.